Tulaytullah's Remembrance
A bell crafted of deep sapphire and sterling silver. Its echoes are as crisp as they are distant.
Bygone Azure Teardrop
Normal Attack SPD is increased by 10%/12.5%/15%/17.5%/20%. After the wielder unleashes an Elemental Skill, Normal Attack DMG will increase by 4.8%/6%/7.2%/8.4%/9.6% every second for 14s. After hitting an opponent with a Normal Attack during this duration, Normal Attack DMG will be increased by 9.6%/12%/14.4%/16.8%/19.2%. This increase can be triggered once every 0.3s. The maximum Normal Attack DMG increase per single duration of the overall effect is 48%/60%/72%/84%/96%. The effect will be removed when the wielder leaves the field, and using the Elemental Skill again will reset all DMG buffs.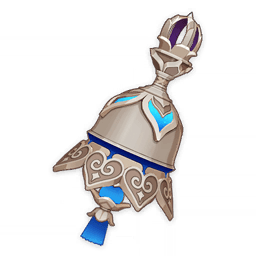 ASC
LVL
Base ATK
CRIT DMG
Ascension Materials
0
1
48
9.6%
5
69
11.2%
10
92
13.1%
15
115
15%
20
133
17%
1
20
164
17%

5

5

3

10,000

25
188
18.9%
30
212
20.8%
35
236
22.8%
40
261
24.7%
2
40
292
24.7%

5

18

12

20,000

45
316
26.7%
50
341
28.6%
3
50
373
28.6%

9

9

9

30,000

55
398
30.5%
60
423
32.5%
4
60
455
32.5%

5

18

14

45,000

65
480
34.4%
70
506
36.3%
5
70
537
36.3%

9

14

9

55,000

75
563
38.3%
80
590
40.2%
6
80
621
40.2%

6

27

18

65,000

85
648
42.2%
90
674
44.1%