Hunter's Path
This gilded bow was made using precious white branches. It has felled countless wicked beasts attempting to infiltrate the woods.
At the End of the Beast-Paths
Gain 12%/15%/18%/21%/24% All Elemental DMG Bonus. Obtain the Tireless Hunt effect after hitting an opponent with a Charged Attack. This effect increases Charged Attack DMG by 160%/200%/240%/280%/320% of Elemental Mastery. This effect will be removed after 12 Charged Attacks or 10s. Only 1 instance of Tireless Hunt can be gained every 12s.
Recommended Characters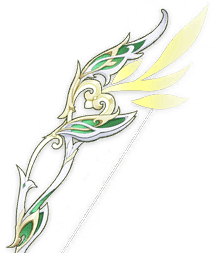 ASC
LVL
Base ATK
CRIT Rate
Ascension Materials
0
1
44
9.6%
5
62
11.2%
10
79
13.1%
15
96
15%
20
110
17%
1
20
141
17%

5

5

3

10,000

25
158
18.9%
30
176
20.8%
35
193
22.8%
40
210
24.7%
2
40
241
24.7%

5

18

12

20,000

45
258
26.7%
50
275
28.6%
3
50
307
28.6%

9

9

9

30,000

55
324
30.5%
60
341
32.5%
4
60
373
32.5%

5

18

14

45,000

65
390
34.4%
70
408
36.3%
5
70
439
36.3%

9

14

9

55,000

75
457
38.3%
80
475
40.2%
6
80
506
40.2%

6

27

18

65,000

85
524
42.2%
90
542
44.1%