Moonpiercer
A weapon you obtained from an Aranara tale. It is shaped like a giant arrow and can be used as a spear.
Stillwood Moonshadow
After triggering Burning, Quicken, Aggravate, Spread, Bloom, Hyperbloom, or Burgeon, a Leaf of Revival will be created around the character for a maximum of 10s. When picked up, the Leaf will grant the character 16%/20%/24%/28%/32% ATK for 12s. Only 1 Leaf can be generated this way every 20s. This effect can still be triggered if the character is not on the field.
Recommended Characters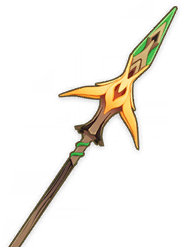 ASC
LVL
Base ATK
Elemental Mastery
Ascension Materials
0
1
44
24
5
63
28
10
83
33
15
103
38
20
119
42
1
20
144
42

3

3

2

5,000

25
165
47
30
185
52
35
205
57
40
226
62
2
40
252
62

3

12

8

15,000

45
273
67
50
293
71
3
50
319
71

6

6

6

20,000

55
340
76
60
361
81
4
60
387
81

3

12

9

30,000

65
408
86
70
429
91
5
70
455
91

6

9

6

35,000

75
476
96
80
497
101
6
80
523
101

4

18

12

45,000

85
544
105
90
565
110