Jadefall's Splendor
A ritual vessel carved from jade that reflects the luster of the skies and the clear waters.
Primordial Jade Regalia
For 3s after using an Elemental Burst or creating a shield, the equipping character can gain the Primordial Jade Regalia effect: Restore 4.5/5/5.5/6/6.5 Energy every 2.5s, and gain 0.3%/0.5%/0.7%/0.9%/1.1% Elemental DMG Bonus for their corresponding Elemental Type for every 1,000 Max HP they possess, up to 12%/20%/28%/36%/44%. Primordial Jade Regalia will still take effect even if the equipping character is not on the field.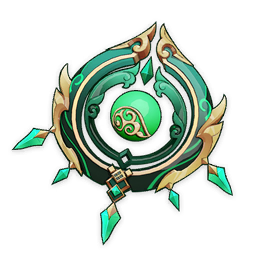 ASC
LVL
Base ATK
HP
Ascension Materials
0
1
46
10.8%
5
66
12.5%
10
86
14.7%
15
106
16.9%
20
122
19.1%
1
20
153
19.1%

5

5

3

10,000

25
173
21.3%
30
194
23.4%
35
214
25.6%
40
235
27.8%
2
40
266
27.8%

5

18

12

20,000

45
287
30%
50
308
32.2%
3
50
340
32.2%

9

9

9

30,000

55
361
34.4%
60
382
36.5%
4
60
414
36.5%

5

18

14

45,000

65
435
38.7%
70
457
40.9%
5
70
488
40.9%

9

14

9

55,000

75
510
43.1%
80
532
45.3%
6
80
563
45.3%

6

27

18

65,000

85
586
47.4%
90
608
49.6%