Fruit of Fulfillment
A fruit you obtained from an Aranara tale. It holds the potential to conquer any crisis.
Full Circle
Obtain the "Wax and Wane" effect after an Elemental Reaction is triggered, gaining 24/27/30/33/36 Elemental Mastery while losing 5% ATK. For every 0.3s, 1 stack of Wax and Wane can be gained. Max 5 stacks. For every 6s that go by without an Elemental Reaction being triggered, 1 stack will be lost. This effect can be triggered even when the character is off-field.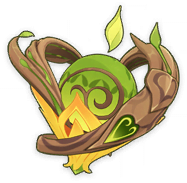 ASC
LVL
Base ATK
Energy Recharge
Ascension Materials
0
1
42
10%
5
60
11.6%
10
77
13.6%
15
95
15.7%
20
109
17.7%
1
20
135
17.7%

3

3

2

5,000

25
152
19.7%
30
170
21.7%
35
187
23.7%
40
205
25.8%
2
40
231
25.8%

3

12

8

15,000

45
248
27.8%
50
266
29.8%
3
50
292
29.8%

6

6

6

20,000

55
309
31.8%
60
327
33.8%
4
60
353
33.8%

3

12

9

30,000

65
370
35.9%
70
388
37.9%
5
70
414
37.9%

6

9

6

35,000

75
431
39.9%
80
449
41.9%
6
80
475
41.9%

4

18

12

45,000

85
492
43.9%
90
510
45.9%