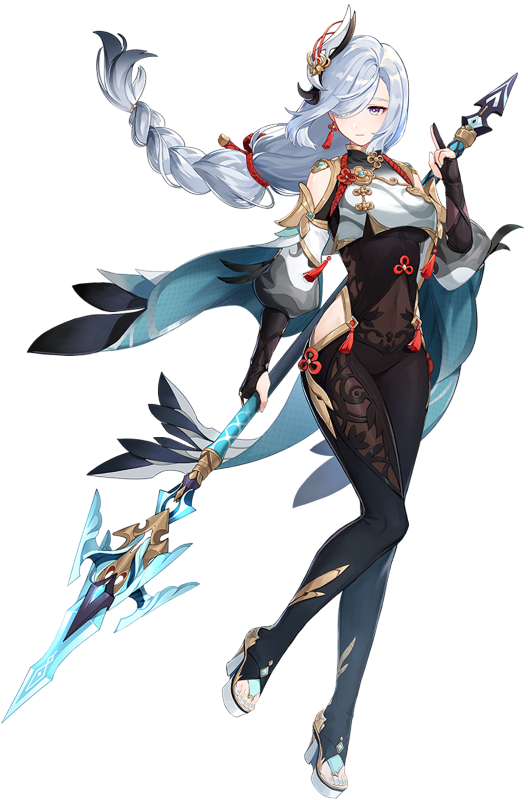 Shenhe

An adepti disciple with a most unusual air about her. Having spent much time cultivating in isolation in Liyue's mountains, she has become every bit as cool and distant as the adepti themselves.
Talent Book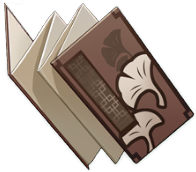 Prosperity
Boss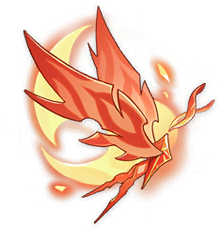 Ascension Materials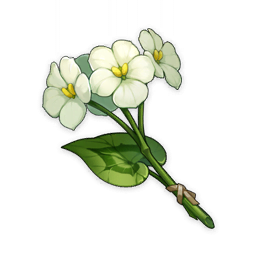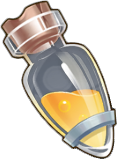 ASC
LVL
HP
ATK
DEF
CRIT Rate
CRIT DMG
ATK%
0
1
1011
24
65
5%
50%
0%
20
2624
61
168
5%
50%
0%
1
20
3491
82
223
5%
50%
0%
40
5224
122
334
5%
50%
0%
2
40
5840
137
373
5%
50%
7.2%
50
6719
157
429
5%
50%
7.2%
3
50
7540
176
482
5%
50%
14.4%
60
8429
197
538
5%
50%
14.4%
4
60
9045
211
578
5%
50%
14.4%
70
9941
232
635
5%
50%
14.4%
5
70
10557
247
674
5%
50%
21.6%
80
11463
268
732
5%
50%
21.6%
6
80
12080
282
772
5%
50%
28.8%
90
12993
304
830
5%
50%
28.8%
SUPPORT Build 👍
Shenhe is a Support for Cryo characters, capable of providing damage buffs from her Elemental Skill and dealing damage while providing Cryo and Physical resistance shred from her Elemental Burst. Her Elemental Skill gives a few stacks of additional flat damage bonus to all nearby party members (5 stacks on Tap and 7 stacks on Hold). This additional flat damage bonus only works on Cryo attacks, so characters who doesn't deal Cryo attacks doesn't benefit from Shenhe's Elemental Skill, do note that Cryo infusion from Anemo characters does act as a Cryo attack, so it benefits from Shenhe's Elemental Skill. Another thing to note is that the additional flat damage bonus Shenhe provides uses Shenhe's current ATK, so it doesn't snapshot. Regarding Weapon Choices: Calamity Queller: The passive of this weapon works perfectly with Shenhe's Elemental Skill because it's dynamic. This weapon also has high Base ATK which makes ATK% substats really effective. Engulfing Lightning: This weapon provides Energy Recharge and converts Energy Recharge to ATK, which benefits Shenhe a lot. Vortex Vanquisher: This weapon's passive can't be stacked off-field, but it's still an ATK stat stick which provides Shenhe with a lot of ATK. Favonius Lance: With this weapon, it is better to have some Crit Rate on Shenhe for the weapon passive to proc. (Do note that Cryo Resonance provides 15% Crit Rate on Cryo-imbued enemies, so the need for Crit Rate on Shenhe is lowered) Regarding Main Stats Priority: If you're equipping an ATK% weapon, try to aim for an Energy Recharge sands and vice versa.
MAIN STATS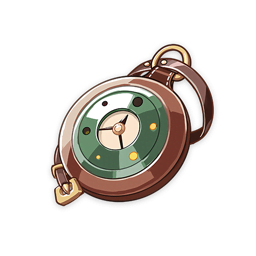 SANDS
ATK% / Energy Recharge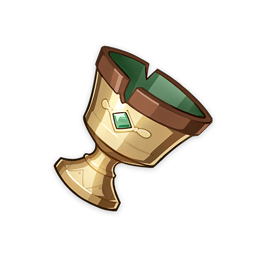 GOBLET
ATK%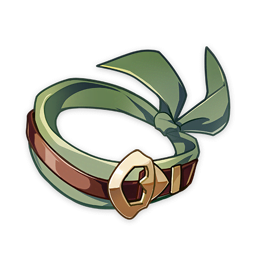 CIRCLET
ATK%
SUB STATS
1. ATK%
2. Energy Recharge
3. Crit Rate / DMG
4. Flat ATK
Community Character Builds by the Genshin Helper Team
Talents

Normal Attack: Dawnstar Piercer
Normal Attack
Performs up to five consecutive spear strikes.

Charged Attack
Consumes a certain amount of Stamina to lunge forward, dealing damage to opponents along the way.

Plunging Attack
Plunges from mid-air to strike the ground below, damaging opponents along the path and dealing AoE DMG upon impact.

The frosted dew, silvery and dense, shall exorcise all demons.
Grants all nearby party members the Icy Quill effect and deals Cryo DMG in different ways based on whether it is pressed or held.

pressed
Rushes forward together with a Talisman Spirit, dealing Cryo DMG to opponents along the path.

Hold
Commands the Talisman Spirit to deal AoE Cryo DMG.

Icy Quill
When Normal, Charged, and Plunging Attacks, Elemental Skills, and Elemental Bursts deal Cryo DMG to opponents, the DMG dealt is increased based on Shenhe's current ATK.

The Icy Quill's effects will be cleared once its duration ends or after being triggered a certain number of times. When held rather than pressed, the Icy Quill's effect lasts longer and can be triggered more times.
When one Cryo DMG instance strikes multiple opponents, the effect is triggered multiple times based on the number of opponents hit. The number of times the effect is triggered is calculated independently for each party member with the Icy Quill.


The power of the spirits is no falsehood. Burdened with her orders, the divine maiden hurries on!

Divine Maiden's Deliverance
Unleashes the power of the Talisman Spirit, allowing it to roam free in this plane, dealing AoE Cryo DMG.
The Talisman Spirit then creates a field that decreases the Cryo RES and Physical RES of opponents within it. It also deals periodic Cryo DMG to opponents within the field.


The way of the adepti is not defined only by the mysterious and fantastical. Only by observing the changes in the heavens and the earth, and understanding the laws of cause and effect in this realm, may its essence be understood.
Passive Talents

Deific Embrace
An active character within the field created by Divine Maiden's Deliverance gains 15% Cryo DMG Bonus.

Spirit Communion Seal
After Shenhe uses Spring Spirit Summoning, she will grant all nearby party members the following effects:
- Press: Elemental Skill and Elemental Burst DMG increased by 15% for 10s.
- Hold: Normal, Charged, and Plunging Attack DMG increased by 15% for 15s.

Precise Comings and Goings
Gains 25% more rewards when dispatched on a Liyue Expedition for 20 hours.
Constellations

Clarity of Heart
Spring Spirit Summoning can be used 1 more time.

Centered Spirit
Divine Maiden's Deliverance lasts for 6 seconds longer. Active characters within the skill's field deals 15% increased Cryo CRIT DMG.

Seclusion
Increases the Level of Spring Spirit Summoning by 3.
Maximum upgrade level is 15.

Insight
When characters under the effect of Icy Quill applied by Shenhe trigger its DMG Bonus effects, Shenhe will gain a Skyfrost Mantra stack:
- When Shenhe uses Spring Spirit Summoning, she will consume all stacks of Skyfrost Mantra, increasing the DMG of that Spring Spirit Summoning by 5% for each stack consumed.
- Max 50 stacks. Stacks last for 60s.

Divine Attainment
Increases the Level of Divine Maiden's Deliverance by 3.
Maximum upgrade level is 15.

Mystical Abandon
When characters trigger Icy Quill's effects using Normal and Charged Attack DMG, it does not count toward the Trigger Quota.